The Native American Transportation Internship is a (recurring) one-month, fully-paid, summer internship that provides support for two transportation students (from Tran-SET partnering universities) to travel to Louisiana State University (LSU) and work onsite on select Tran-SET-funded research projects. It is a partnership between LSU and other Tran-SET partnering universities with funding from LSU's College of Engineering, Department of Construction Management, and Tran-SET.
The Internship is part of Tran-SET's firm commitment to advance the transportation workforce and to develop its next generation of leaders by: (1) attracting and supporting diverse, promising individuals to the transportation field and (2) providing experiences through education and cutting-edge research to more properly prepare these individuals as they enter the workforce.
The Internship includes three synergistic components: (1) hands-on research experience on several Tran-SET-funded projects as a student worker (main component), (2) presentation series on diverse, relevant transportation topics, and (3) informal sessions with varied transportation professionals (from industry, practitioner community, and state and federal government). Please see the link below for the application process.
Tran-SET's 2020 Native American Transportation Internship was cancelled due to COVID-19.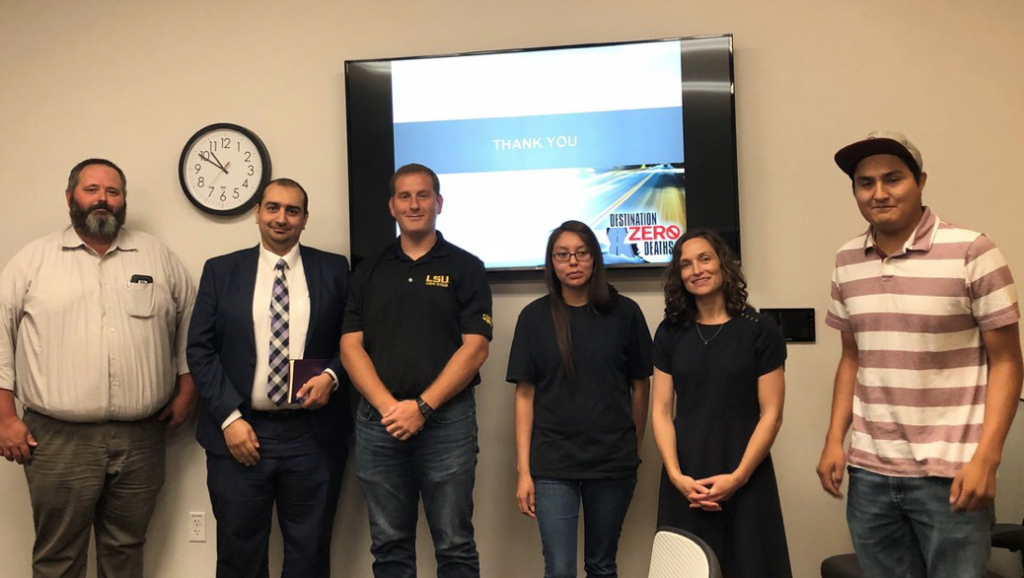 Tran-SET was proud to host Mr. Seth Dennison and Ms. Samantha Francis for our 2019 Internship! The Internship took place June 3 – 28, 2019 and included an exciting set of activities.
Please note that the topical presentations and informal sessions are open to all local students (and not just the student Interns). These events are a great opportunity to learn more about various transportation topics and to meet/network with active professionals in the field. Please see the full schedule of events below.
2018 Internship (Inaugural)
The inaugural internship took place June 4th – June 29th, 2018 and included two Navajo students: Ms. Christine Whitehorse and Ms. Arlyssia Sells.
The students were exposed to a variety of transportation topics and professions, including a site visit to the FHWA LA Division Office, a site visit to the Capital Region Planning Commission (CRPC), a site visit to the Alliance Safety Council, and two on-site presentations from the Deep South ITE President and Vice President, respectively. It is important to note that these site visits/informal sessions (and the topical presentations) were open to all local students and not just the interns. The events were a great opportunity to learn more about various transportation topics and to meet active professionals in the field. 
Please see the link below for the complete schedule of activities.